Dr Mantha Ram Murty, a marine biologist and former professor is the founder of the Dolphin Nature Conservation Society, established in 2001 . He with his team of volunteers and students has devoted his time,money, energy into a job that is worth listening to. Let's acknowledge his work.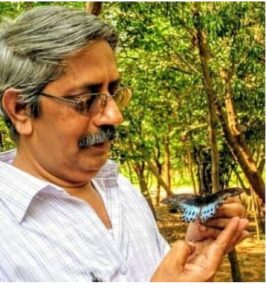 (Picture Source – The Better India)
In the city of Vishakhapatnam,Andhra Pradesh, in the premises of RCD hospital he converted a waste dumping area of land into a lush green biodiversity park. The whole three acre of land comprising of hospital waste and littering objects is now a shelter providing place to many species of flora and fauna. In this process of transforming a waste land into a biodiversity park he formed DNCS in 2001. The collective work of his team members has resulted in giving lives to more than 2000 plants species and 130 butterfly species,60 species of birds, Golden-backed, woodpecker,spotted owlet, to name a few. The green land is a hub of many endangered species with a diverse ecosystem. Doesn't this amaze you? Yes,of course it does but one must remember that a man with a task force never loses to achieve his aim. Here in this case,Dr Murthy has a task force of numerous of volunteers, hardworking students and donors. Moreover,the park is divided into 10 zones- sacred grooves,living fossil plants of Jurassic times(Gymnosperm), cacti and succulents, ornamental plants, aquatic plants, insectivorous plants , orchids, ferns, bamboo and palm groves. Now, whenever you get a chance to visit the city of Andhra Pradesh, Vishakhapatnam, do find a way to reach this beautiful park and feel blissful.
By Ayushi Bharadwaj